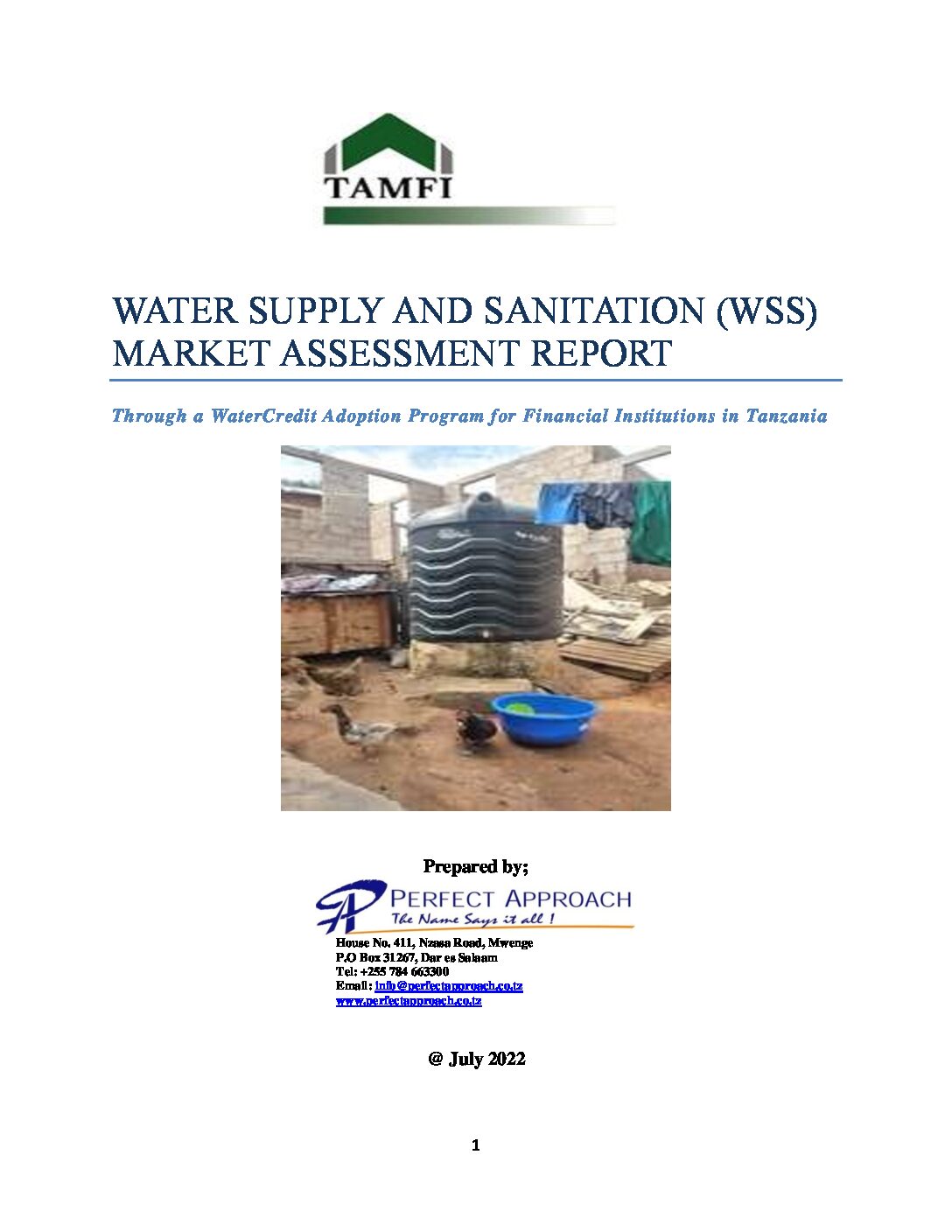 Through a WaterCredit Adoption Program for Financial Institutions in Tanzania
Dar es Salaam, Tanzania – In a recent market assessment conducted by the Tanzania Association of Microfinance Institutions (TAMFI) and Water.org, key findings shed light on the current state of water supply and sanitation (WSS) in Tanzania and identified significant financing opportunities to improve access to clean water and sanitation facilities across the country.
The assessment, which covered various zones in Tanzania, including Dar es Salaam, Northern East, Lake, Central, and Southern Highland in mainland Tanzania, and Zanzibar, aimed to understand the WSS market dynamics and identify financing gaps in the supply and delivery of WSS services. A mixed-methods approach was employed to collect data from stakeholders along the WSS services chain, incorporating quantitative and qualitative methods.
One of the key findings revealed by the assessment was that 86% of the urban population and 74.3% of the rural population have access to safe and clean water, according to the 2021 Water Sector Status Report. However, these figures fall short of the targets the National Development Vision 2025 set, which aims to achieve 95% and 85% access to clean water in urban and rural areas, respectively.
Furthermore, the report highlighted that only 20% of the urban population in Tanzania is connected to sewerage systems, significantly below the target of 30% set for 2019. This indicates a substantial opportunity for improvement in sanitation infrastructure.
The assessment also revealed that piped water remains the primary source of water supply in urban and semi-urban areas, although house-owned and public wells also play a significant role. Over 60% of households rely on piped water, while self-supply sources, such as wells, account for over 25%.
Despite improvements in water supply services, the assessment identified challenges related to consistent availability. Water rationing was found to be rampant in some areas, hindering efforts to ensure uninterrupted access to clean water.
The quality of toilets in households was another concern highlighted by the assessment. Although every household visited had a toilet, the majority of them were of poor quality in terms of appearance and structure, emphasizing the need for improved sanitation facilities.
Affordability emerged as a crucial factor impacting access to WSS services. While water supply materials, such as pipes, cement, and water tanks, were found to be widely available in the market, their affordability, especially for the lower-end market, posed a challenge.
Based on these findings, the assessment identified several financing opportunities for financial institutions (FIs) to contribute to improving WSS services. These opportunities include partnering with water authorities to strengthen their financial capacity, supporting the development of water self-supply technologies, investing in water treatment technologies, and expanding sewerage systems and Decentralized Wastewater Treatment System (DEWATS) technology.
The assessment's findings and recommendations will guide TAMFI and its members in developing financial products that address the identified demand along the WSS value chain, ultimately contributing to the country's goals of achieving universal access to clean water and improved sanitation.
TAMFI and Water.org's partnership signifies their commitment to addressing the pressing issue of water supply and sanitation in Tanzania, working together to create sustainable solutions that will improve the lives of communities across the country.
Access to clean water and sanitation facilities remains crucial to Tanznaia's development agenda. The findings of this assessment provide valuable insights and a roadmap for the country's stakeholders to collaborate and channel resources towards achieving this vital goal. Here is the full report