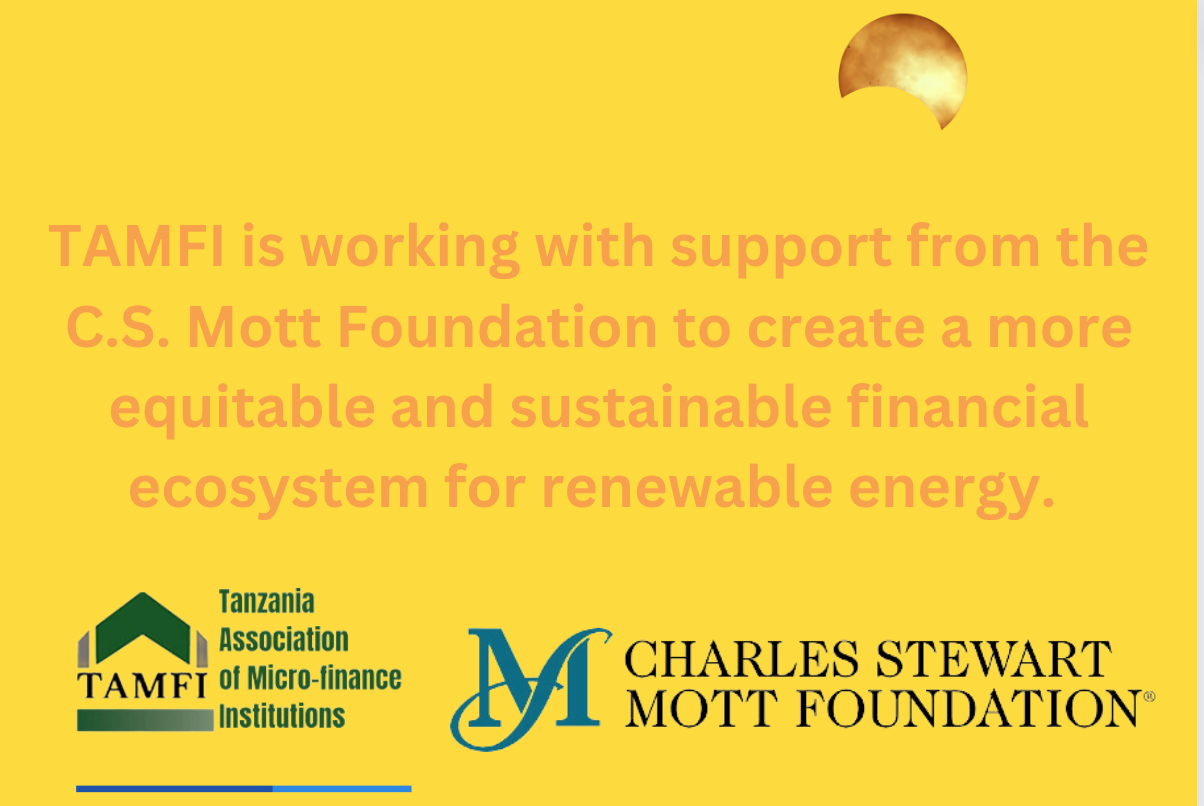 Mbagala, Dar es Salaam
Said Nolasko, a resident of Mbagala, Dar es Salaam, had been using a kerosene lamp to light his home at night since his house was not connected to the national grid power. However, this changed when he received a loan from a HP microfinance institution to install a solar panel system in his home.
The solar panel system has allowed Said to have reliable access to electricity and to save money that he used to spend on buying kerosene for the lamp. "I no longer have to spend money on kerosene, which was expensive and not environmentally friendly," said Said.
Said's solar panel system provides lighting and charging for his phones, which is essential for his business. He sells various fruits at Ilala market, and the ability to charge his phone has improved his communication with customers and suppliers.
Said said that he is grateful for the loan from TAMFI member, HP Finance that enabled him to have access to clean and reliable energy. He was paying 9,000 Tanzanian shillings per week for the loan, which he has finished paying, but he hopes that the microfinance institution will continue to offer these services to more people with larger solar panel systems.
Said's business is located far from his home, and he operates during the day, so he does not use alternative energy for his business. However, he hopes that in the future, he can expand his business and use solar energy for his operations.
Said Nolasco was pleased with the loan for the solar panel system he received. It did not require collateral, but only identification and commitment, and in his case, he used his voter ID. This was a huge relief for him, as he did not have any assets to offer as collateral. The loan was easy to access, and the repayment plan was affordable. Said was able to repay his loan in nine months without any stress.The microfinance institution came to his home to install the solar panel system and provided training on how to use and maintain it.
Said is one of many Tanzanians who have benefited from microfinance institutions that provide solar panel systems as an alternative energy source. These loans have enabled people to have reliable access to electricity, which is essential for improving their quality of life and economic opportunities.
Access to reliable and affordable energy is crucial for better health, improved education, and greater economic opportunities. Unfortunately, many Tanzanians still struggle to access such energy. However, microfinance institutions, such as the one that provided Said's loan, are stepping up to address this challenge by providing financing for solar energy solutions to those who would not otherwise have access.
Microfinance institutions are breaking the cycle of poverty by providing Tanzanians with access to clean and affordable solar energy. With more education and awareness of solar energy solutions, more people like Said can benefit from these financing programs and create a brighter future for themselves and their communities.
According to Winnie Terry, CEO of TAMFSaid's story is an excellent example of how renewable energy can transform lives and businesses. With reliable access to solar power, he has improved his quality of life, saved money, and communicated better with his customers and suppliers. The microfinance institution that provided his loan is helping to empower Tanzanians and create a more sustainable future.
"Said demonstrates the importance of providing access to solar energy solutions, as it can drastically improve their daily lives by providing reliable and sustainable electricity. Not only does it reduce their expenses, but it also eliminates the health risks associated with using kerosene lamps for lighting homes," she noted.
*"The success story is a part of the "Energy Access: Building an Innovative Financial Ecosystem for Enterprises and End Users" project implemented by TAMFI and supported by the C.S. Mott Foundation. The project focuses on creating awareness and educating financial institutions and other stakeholders about decentralized renewable energy (DRE) for productive use and its benefits in increasing reliability and reducing costs in production.