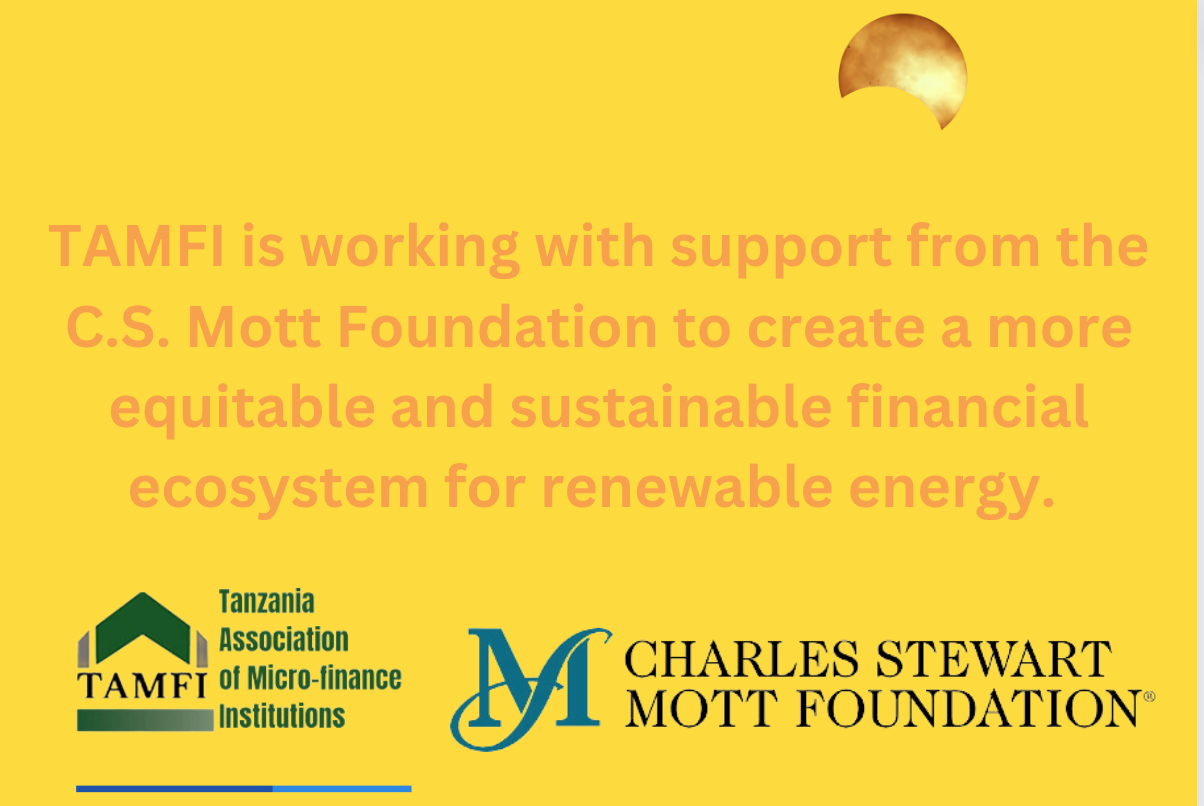 Musoma, Tanzania
Small-scale farming is the backbone of Tanzania's economy, with over 80% of the population engaged in agriculture. However, small-scale farmers in Tanzania face significant challenges, including high operating costs, limited access to finance, and unreliable energy sources.
The alternative energy project advocated for by TAMFI and implemented by the association members is transforming small-scale farmers' lives by providing them access to affordable renewable energy financing.
Bhoke Chacha, a small-scale businessperson and farmer from Musoma, Songa Mbele, has solved his electricity problems through the alternative energy project initiated by TAMFI.
Before the project, Bhoke faced challenges with the national grid electricity not always available, leading to increased operating costs. But after the project's arrival, Boke can now use solar energy as an alternative source of electricity, reducing his operating costs significantly.
Bhoke now uses a solar-powered pump for irrigation, which has reduced the need for manual labour. Using alternative energy has also increased Bhoke's production, which previously provided him with only 200,000 shillings in profit per rotation of crop farming.
With the alternative energy project, Bhoke can get up to 1,000,000 shillings when harvesting, significantly easing her life. Before, Bhoke could only harvest once a year, but with the project, she can now harvest up to four times a year. Bhoke sees her business continuing for a long time and urges financial stakeholders to continue investing in projects like this to increase small-scale farmers' income.
"Thanks to the solar-powered pump for irrigation, I have increased my crop production significantly, which has translated to more profits. Before the alternative energy project, I would only make a profit of 200,000 shillings per crop rotation. However, I can now make up to 1,000,000 shillings per harvest with the project. This has been life-changing for me since I can now harvest up to four times a year instead of just once," she said.
Bhoke also mentioned, "I plant a variety of vegetables on my farm, including peppers, tomatoes, onions, and others, that typically mature every three months," she said.
Bhoke received a loan for a solar pump worth 6,500,000 shillings from Enokwe Finance Limited, a member of TAMFI. The loan's terms were not oppressive, with monthly repayments secured by one house title. Bhoke received appropriate advice from the loan officer during the installation of the alternative energy infrastructure, and experts also provided practical advice on how to operate the infrastructure.
Bhoke believes that TAMFI should continue to advise financial institution stakeholders to participate in projects like this one so that interest rates are more favorable. She also requests a mechanism to enable farmers to receive subsidies when they get stuck in production activities. Bhoke's farming activities have gained significant operational momentum due to the arrival of this alternative energy project initiated and coordinated by TAMFI. Therefore, in the future, projects like this one should not end so that small-scale farmers can continue to increase their income.
Bhoke's success story is an excellent example of the transformative impact of the alternative energy project advocated by TAMFI.
The project seeks to empower domestic and business users of renewable energy in Tanzania, enabling them to reduce operating costs, increase production, and improve their livelihoods. By promoting access to affordable renewable energy financing, the project is contributing to the development of Tanzania's agricultural sector and the country's economy. "The availability of renewable energy financing is essential for ensuring sustainable growth and progress in various sectors, including agriculture, business, and domestic use. We want to create a more inclusive financial ecosystem for end-users and enterprises in Tanzania, ensuring that all community members have access to the resources they need to succeed, noted Winnie Terry, TAMFI CEO.
The project's success shows how innovative financial ecosystems can make a real difference in creating opportunities for communities to improve their lives. By advocating for and promoting renewable energy financing, TAMFI is playing a crucial role in helping farmers like Bhoke Chacha gain access to the resources they need to succeed, Winnie noted.
*"The success story is a part of the "Energy Access: Building an Innovative Financial Ecosystem for Enterprises and End Users" project implemented by TAMFI and supported by the C.S. Mott Foundation. The project focuses on creating awareness and educating financial institutions and other stakeholders about Decentralized Renewable Energy (DRE) for productive use and its benefits in increasing reliability and reducing costs in production.